Los Angeles, Oct 14: A woman who identifies herself as Aishwarya Rai's former manager has claimed controversial Hollywood producer Harvey Weinstein had tried to make advances at the globally-known Bollywood actress.
Weinstein is in news for multiple sexual assault allegations against him.
In a comment posted in response to a news story by variety.com, Simone Sheffield wrote: "I use(d) to manage Indian actress Aishwarya Rai. While dealing with Harvey, I found it comical how hard he tried to get Aishwarya alone.
"But he was a pig… Looked and acted like a 'big bully pig'. He asked me to leave the meeting numerous times and I politely declined."
A former Miss World, Aishwarya has worked in international projects like "Bride & Prejudice", "Mistress of Spices" and "The Pink Panther 2".
Sheffield, who reportedly used to manage Aishwarya's international projects at one point, added: "When we were leaving his (Weinstein's) office, he cornered me and said, 'What do I have to do to get her alone?' I told him to 'kiss my black ass'.
"When Ash and I returned to our hotel, I sent Harvey a steel pig trough filled with diet coke as a thank you gift for the meeting. Yes, we did do business and yes, he eventually threatened me.
"Told me I'd never work in this business, blah blah blaha.what I said to him I can't print. But you can be sure, I never gave him the opportunity to even breathe on my client."
Several women in Hollywood have come out and spoken about their experiences with Weinstein. Among them are Angelina Jolie, Gwyneth Paltrow, Kate Beckinsale, Emma Thompson and Cara Delevingne.
Sheffield has urged more women to speak out "the truth".
"Protect one another. Support one another. Love one another."
According a Wikipedia page in the name of Simone Sheffield, she is the owner of the California-based company Canyon Entertainment, and has managed Aishwarya and Bipasha Basu.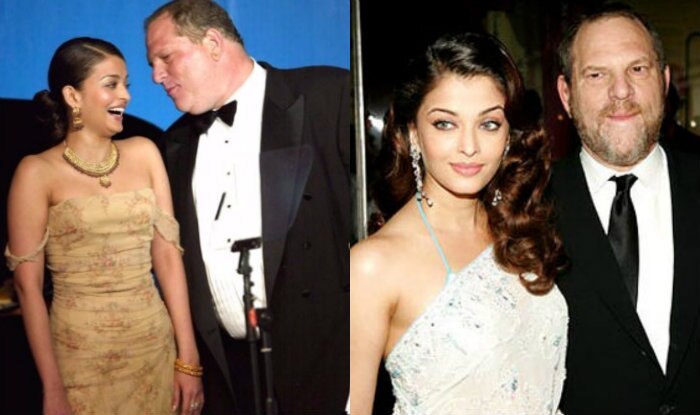 (pix source: india.com)
In 2011, after serving as Aishwarya's international representative for over nine years, they parted ways.
The Weinstein Company may shut down: Media
The Weinstein Company (TWC) may be preparing for its end, according to media reports. If it does pull the plug, its films and TV shows will be sold off separately.
The 12-year-old mini-major film studio, founded in New York City by the Weinstein brothers might just wrap up in the wake of founder Harvey Weinstein's sex assault scandal, PageSix reported.
The embattled film production company's board was looking at either selling to another company or just fading to black and was unlikely to continue as an independent entity, the Wall Street Journal said in its report.
Prospective buyers have already approached board members, it said.
However, the company's co-chair Bob Weinstein, has rejected the report on Friday, saying the company is plowing ahead. The studio originated in 2005, after the Weinsteins left Miramax Films, which they co-founded in 1979.
"Our banks, partners and shareholders are fully supportive of our company and it is untrue that the company or board is exploring a sale or shutdown," the TWC co-chair said Friday in a statement to Deadline Hollywood.